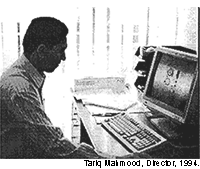 TCS CAD & BIM Solutions Limited is a well-established company having recently celebrated its 25th birthday. We are based in a suburb of Stockton on Tees, started as a sole trading business in 1994 as an Engineering Drawing Office.
We are a leading supplier of Autodesk, Vectoworks and Sketchup software in the UK and Ireland. We provide complete CAD (computer aided design), BIM (Building Information Modelling) Civil and Infrastructure Design solutions, network ready workstations, print stations, scan and copy stations to your requirements.
Our specialised partnerships with the world's leading CAD and BIM design software vendors such as Autodesk, Vectorworks and Trimble Sketchup allows us to deliver highly efficient design solutions as well as associated training, consultancy and support services ensuring that our customers gain maximum productivity
Our wide range of products include: AutoCAD, Revit, AEC Design Collections, HP DesignJet, Epson Stylus Pro and Canon iPF series of large-format Plotters, Printers, Contex and Colortrac wide-format Scanners, Plotting Paper Rolls and Ink Supplies.
TCS CAD is Autodesk Authorised Training Centre (ATC) and offer BIM Training, BIM Project Support and Advice, BIM Modelling Service, CAD equipment installationand setup services.
We pride ourselves on our unique customer service, offering full support and advice on all products we provide from initial enquiry to completion of project. Each customer is given an account manager who they can call not only about the solution they have purchased but also about their current infrastructure and how the technologies will work together. We are genuinely customer led and it is this that has helped us maintain credible business in the past 20 years.
We are especially proud of our partnership with Autodesk, Sketchup, Vectorworks, Hewlett Packard and Art Systems Ltd.
Our Customers: We have an enviable portfolio of clients including Architects, engineering companies, construction companies, builders, print-service providers, health authorities, utilities, public sector and educational establishments. A current list of customers and detail of any reference sites is available upon request.
Our Commitment: We are continue to work hand in hand with all our equipment manufacturers, distributors and logistic partners in order to serve our existing client base and new customers. We employ the person we feel is best suited to the job without discriminating against race, age or disability and will continue to train our staff to the highest levels in order that they have the skills and confidence to help in all customer enquiries. We embrace new technologies and products in order to serve the new demands of our clients
Our commitment to our clients is demonstrated daily by every member of our dedicated sales and support team, whether it is a serious hardware failure or simply getting a delivery on time. We actively encourage customer feedback, and regularly assess our strengths and weaknesses in order to give our clients the confidence to return to us when the need arises.